Alaska Fishing News September 2022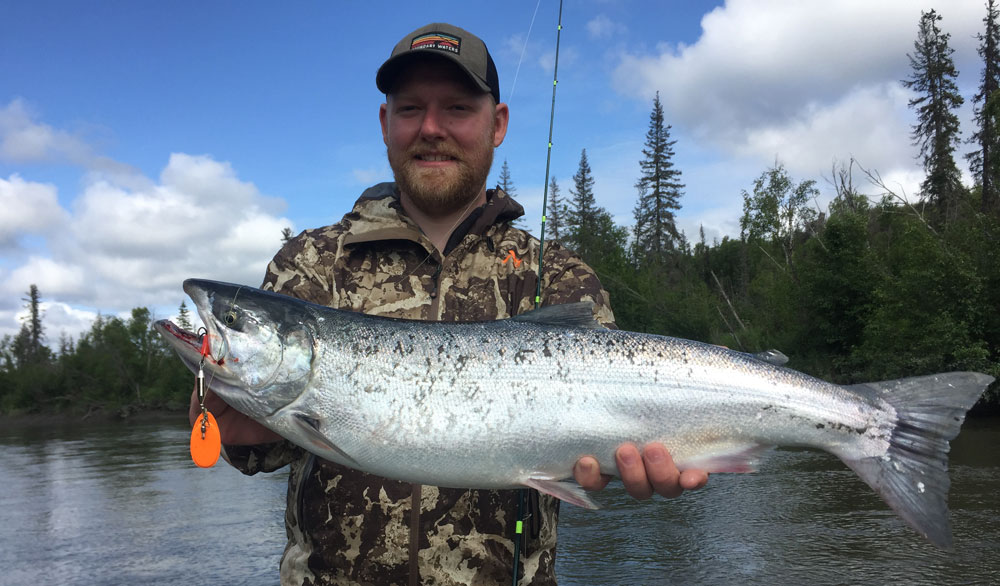 Custom spinners + Custom Rods = Custom Fishing Fun!
September Salmon Catching Opportunities
While our guest still catch some ocean-fresh chrome coho salmon primarily in early September, there is a much greater abundance of rosy-hued coho salmon migrating up Mat-Su Valley streams as daily temperatures start to cool. Bait fishing is still allowed on Little Susitna River and Knik River drainages during September, while fishing on the Susitna River drainage switches to artificial lures only starting September 1. September usually provides an opportunity to fish prime waters with low fishing pressure from other anglers — and catching opportunities can be very good. For anglers primarily wanting to experience catch and release fishing casting our Flashtrap Spinners keeps guests active throughout the trip and usually produces good catches as well.
September 1 – 10 Little Susitna River or Susitna River Tributaries
We have guided all of our September trips to these locations in recent years — although there is also an opportunities to catch salmon at Knik River's Eklutna Tailrace and Jim Creek fisheries. Bait is still allowed at Knik River and Little Susitna River locations during September, while single hook artificial lures will be used (as required) on the Susitna River drainage.
September 1 — The most prime ocean-chrome coho salmon are usually available right at the start of September. Give us a call at 907-746-2199 if you would like to discuss a September salmon fishing trip. We will be posting daily fishing reports updates each time we guide a trip during September.
September 2022 Alaska Fishing Reports —
September 2, 2022 — While Still isolating for other people I was feeling well enough to drive over and take a look at Eklutna Tailrace. I even took a couple rods along. When I got to the tailrace I saw 3 anglers fishing with bait near the tailrace / Knik River confluence. I watched them fish for about 20 minutes, but never saw them even get a strike. There were a few salmon surfacing in the tailrace, and and there were filleted salmon carcasses along the bank in several places. Near the pedestrian bridge there was a large pile of fresh bear sign. I walked around a bit and decided to head home without even wetting a line.
September 3, 2022 — My wife and I learned my nephews had returned from a successful moose hunt, so we helped cut up fresh moose meat for a few hours.
September 4, 2022 — I guided a morning group of 4 guests, who kept 4 coho salmon and released another 3 or 4 coho salmon that they decided not to keep. They also caught 1 rainbow trout. All of the fish were caught by drifted Fire Cured salmon roe under ESB Bobbers. During the trip my guests, saw a beaver, a sub legal bull moose, two bald eagles, and several ducks along the river.
September 6, 2022 — I guided a group of 3 guests, each of whom caught a limit of coho salmon, although the group only kept 2 of the best salmon. In addition one guest also caught 3 rainbow trout. All fo the fisher were caught by drifting Fire Cured salmon roe under ESB Bobbers. During the trip we saw some ducks, ravens, and a bald eagle.
This was the last trip I still had on my schedule after contacting Covid late last month. As mentioned in earlier fishing reports, I had suspended taking new reservations for the remainder of the 2022 season at that time. It was good to get out on the river a couple more times in early September, and it helped come to terms with the fact that another summer of guiding guests on salmon fishing trips is coming to an end. I now know of no place in the Mat-Su Valley where I could take guests with the hope that they would catch prime table -fare quality coho salmon. Therefore it is time for me to clean up and store my fishing gear, and move on to other activities.
September 7, 2022 — Thanks to all of our Fishing Guests who made 2022 another fun and memorable summer on the rivers of Alaska's Mat-Su Valley. It has been a pleasure to fish with you!
September 14, 2022 – I have already started ordering new fishing gear for guests to use during our 2023 salmon fishing season. Items already ordered include:
(2) North Fork Composites X-ray / Carbon Air blanks to provide guests an opportunity to fish with a top-shelf custom rod. It may take a month or more — before I can even start building.
(2) new spinning reels for bobber fishing — a solid model we've been using for several years.
(1) 3500 yard spool of braided 30# line to put on our reels.
Items I'm hoping to order later this month:
(2) High-end spinning reels — to let guests fish with an ultra-smooth reel on one of our new rods. These rod / reel combinations will likely be used primarily when casting artificial lures — from May until early September..
(2) Spinning reels for bobber / bait + lure casting in a model /size we have not tried. I'm thinking one or both of these reels may be in my guide boat the entire summer of 2023.
Friday September 16, 2022 — I talked to two friend who had caught coho salmon this past week. One mentioned that he thought he had caught his last coho salmon of the season yesterday when he landed a chrome fish near the Jim Creek / Knik River confluence — he mentioned that the fishing had slowed way down. The other friend told me he had landed a couple limits of chrome coho from the Kenai River this week— he then sent me some photos that would confirm some great looking chrome coho and make me think about taking a fishing road trip.
Sept. 19, 2022 — rod parts I had ordered and the bulk spool of breaded line I had ordered showed up in the mail today. I have already glued a tip top on a blank I will be wrapping this fall.
Tuesday September 20, 2022 — My wife and I drove into Anchorage and shopped a bit. We walked around Cabela's in South Anchorage for an hour or so, and I looked at lots of fishing gear. There were some higher-end items I was hoping to examine in person — however — they were not available in the store. It is always good to get an opportunity to examine items in persons before a purchase to simply get a better idea of what a person in buying. As my fishing career has progressed, I find myself interested in higher end items that are often only available through mail-order — which usually means no opportunity to examine in person. One thing to say about Cabela's in South Anchorage, nevertheless, they do have lots of different items in there, and I have bought plenty of good outdoor gear from them — just not today.
I wrote my weekly fishing column for the Frontiersman Newspaper. I don't know if that is something I should continue through the fall / winter or not. I certainly do not have any feedback from either the newspaper or public at this point.
September 24, 2022 — Reels — New fishing gear we ordered earlier this year continues to arrive in the mail. I now have all 6 new reels we ordered for fishing bobbers and bait. I have already put line on these reels as well. I still have rod parts set to arrive, but it may be quite a while before the last order shows up.
I hope to sell off some of the rods and reels that will be replaced by our newer gear. I have lots of spinning reels / spinning rods along with some baitcasting reels and a few baitcasting rods. I am obviously too much of a gearhead, but I do like to try out new equipment.
Tomorrow will be the last day of the general moose season in Game Management Unit 14A where I live, but I have not even picked up a harvest ticket this season — so I likely may not hunt moose at all this season. It definitely is nice to have some nephews who had some success and were willing to share some of their meat. It can pay off taking the younger generation fishing and/or hunting — as we've found out now that the nephews have been hunting much more than me.
Highlight for 2022 — My guests and I made it through the entire 2022 summer salmon fishing season without breaking a single fishing rod! This is a goal I have every year — however — it has been very difficult to achieve. One year I broke two while putting them in my pickup. I do have two rods from this season that need to have tip tops re-glued, but that will be a simple maintenance job.
2022 Custom Fishing Rods
As many guests know I customize and build fishing rods I use on my charters for specific purposes. This past year I tried two new models of rods built on North Fork Composite blanks that worked out as good or better than planned. I built some 7 1/2 foot one-piece bobber rods that had plenty of power for pulling slack line and setting a hook, but featured a moderate-fast action that kept fish secured on the hook during a give and take battle. The other new rod that worked out very well was a 6′ 9″ again featuring a moderate-fast action blank. I built this specifically for more inexperienced and or smaller anglers. The shorter length made it lighter and easier for them to use efficiently, and we used this blank quite a bit for casting spinners, but also as a short bobber and bait rod as well. While I personally like a fast action rod for casting spinners, a slower moderate-fast action rod is often easier for less-experienced anglers to develop a feel for casting with.
While I still have lot of gear on my work bench to put away before I can start wrapping new rods, I've already glued some real seats and handles on what should be 7 new rods for the 2023 fishing season.