Alaska Salmon Fishing Lures & Tackle for Freshwater Rivers
Flashtrap Spinners: Salmon Catching Lures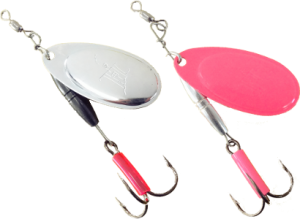 Flashtrap Spinners are proven fish catching lures and salmon slayers – so effective numerous local charter captains and fishing guides fish them extensively for several Alaska fish species. Fishtale River Guides assembles Flashtraps in Alaska, and they are available locally through 3 Rivers Fly and Tackle in Wasilla (907) 373-5434. For top quality fishing tackle, a knowledgeable sales staff, and up to date fishing reports stop by the Three Rivers tackle shop and see their full selection of Flashtrap Spinners.
What Professional Fishermen say about Flashtrap Spinners
I have used Flashtrap Spinners for years both professionally and personally. I have fished them from the lakes and streams of the Mat-Su Valley to the Sub-Arctic rivers around Nome. I have found them to be effective on everything from kings and silvers to pike and grayling. The choice of single or treble hook coupled with the wide assortment of color combinations and sizes make them a prime choice for everyone's tackle box. — Bruce Knowles, Big Fisherman Charters, 1997 Alaska Sports Fisherman of the Year.

Flashtrap spinners catch salmon so well that I use them exclusively on my charters when we're casting lures for salmon. — Greg Accord, Accord Guide Service Wasilla, Alaska.

Your Flashtrap spinners are quality lures that catch fish. They are one of our best sellers. — Mike Hudson, manager, 3 Rivers Fly and Tackle. Wasilla, Alaska.
Salmon Fishing Lures, Tackle, and Gear
http://www.luhrjensen.com
Luhr Jensen manufactures and distributes a huge variety of fishing tackle and gear, including Kwikfish plugs which are favorite king salmon lures on Fishtale River Guides charters. Another worthwhile salmon catching tackle item is Luhr Jensen's light weight Jet Diver. We use size 20 and 30 Jet Divers to fish baits near the bottom while backtrolling or anchor fishing for king, silver, and chum salmon.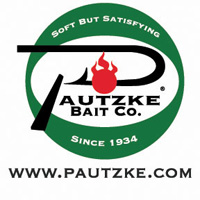 Pautzke Bait Co.
http://www.pautzke.com
Pautzke's Fire Cure salmon egg bait cure
Starting in 2006 we switched to using Pautzke's Fire Cure formula for curing salmon roe bait we fish on our guided salmon fishing charters, and have experienced excellent results. Fire Cure comes in 4 colors, and cures salmon roe eggs quickly and consistently, while adding Pautzke's Krill Scent, to produce bait that triggers aggressive strikes from salmon, steelhead, trout and char. Since specific bait cures work differently, it may take a bit of experimentation with the curing process, but once that gets dialed in, the resulting Fire Cured salmon roe ranks as the best we've fished.
Pautzke's Nectar
Nectar is a natural liquid scent that can increase angler's catches of salmon, trout, and other fish species. Soaking old salmon roe in nectar can revitalize it's fish catching ability. We often use nectar at the start of the season to soften and add scent to roe that spent a winter in the freezer. During winter ice fishing trips I sometimes add a bit of nectar to jarred single salmon eggs to increase scent levels and excite a feeding response from reluctant fish finning near our baits.
Pautzke's Balls O' Fire salmon eggs

Balls O' Fire bait has been a staple on my Alaska Ice Fishing trips for trout, char and land-locked salmon for more than 35 years, and simply produces more bites than any other commercial single salmon eggs I have ever fished. Pautzke's Balls O' Fire bait eggs are also considerably less messy than good roe bait, which is a significant advantage when one is baiting hooks during cool winter weather. The small jars fit easily in a pocket keeping the bait warmer and easier to work with. For more information about Pautzke bait, bait cure, and scent products, visit their website — we've provided a link near the top of this page. If you enjoy fishing the best bait and scent products available, ask for Pautzke products at your local tackle shop or store. Pautzke Bait Company (509) 925-6154 in Ellensburg, Washington.
Calcutta Baitcasting Reels for Backtrolling
When backtrolling for king salmon, I prefer premium quality durable baitcasting. After a season comparing two baitcasting reels, however, the more expensive Calcutta 400B baitcasting reel has proven considerably more durable, and definitely worth the extra cost. Calcutta reels feature a smooth long lasting drag system. The Shimano Calcutta 400B is one of the best reels I've guided with on Fishtale king salmon charters.
Smooth and Durable Spinning Reels
Stradic 4000 XGFK
The smoothest spinning reel guests will cast on my boat during recent salmon fishing seasons is the Shimano Stradic 4000 XGFK. This version of the Stradic reel features a solid more compact body along with Shimano's new strong and durable Hagane gearing. Tangle reducing design and a smooth powerful drag are also include in this lightweight 9.9 ounce engineering accomplishment. After testing fishing a Stradic for several seasons I am positive my additional investment for the upcoming years will yield enhanced fish catching experiences and increased guest enjoyment of our Alaska salmon fishing trips.
Penn 4000 Battle II
Over the past two charter seasons this spinning reel has delivered durable salmon landing performance. At 12.8 ounces this beefier reel features a full metal body, side plate, and rotor, along with carbon fiber drag washers, and a heavy duty bail wire. The Battle II is my top choice when drifting bobbers and bait for king salmon and silver salmon from my guide boat. This economical reel can be found at several sources in the $100 price range.
Lean Green St. Criox Spinning Rod
Custom built on a St. Croix rod blank with a slim hand-fitting Fuji reel seat and Fuji's lightweight tangle-reducing KR guide system, the 7 foot Lean Green rod is our workhorse rod for casting spinners and spoons for Alaska salmon. As it's name implies the Lean Green features a leaner handle / smaller lighter guides which increase rod sensitivity. In addition the Lean Green has the enhanced feel and durability of a true one-piece rod. The Fuji KR guide system increases both casting efficiency and accuracy allowing anglers to better pinpoint their casts with less effort. This rod features a great balance of casting flex combined with hook setting / fish fighting backbone. The shorter and lighter 7 foot rod length makes casting lures for salmon easier and more enjoyable, therefore, when fishing a Lean Green rod you'll likely cast more and take less breaks, and as all anglers know — more in the water lure time often means more fish caught.

Quantum Performance Tuned Fishing Tackle
Backtrolling Rods
Two favorite king salmon backtrolling rods are the Quantum Energy EMC76H (no longer available) and the newer Quantum Performance Tuned PTC747XF. Both of these rods were designed for the technique of flipping bass lures into lilly pads or weed mats, and then quickly hauling bass out of the snaggy mess, both before or after they became entangled.
In my experience Quantum bass flipping rods provide plenty of backbone for hooking and pressuring powerful king salmon, while simultaneously being light enough to make salmon fishing more pleasurable. At over 7 feet in length they are a good length for battling salmon from a boat, without being so long as to make boating fish difficult. — Andy Couch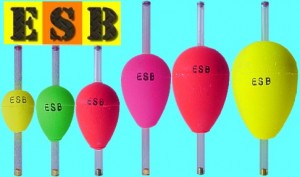 Everlasting Slip Bobber – Having fished many brands of floats or bobbers over several years time, ESBs – everlasting slip bobbers – have proven the most durable, easy to use, and economical bobbers our guide service has ever used. Click on the ESB image below to learn more about this superior product at the HLOutdoors website. — Andy Couch, Fishtale Owner
Float or Bobber fishing for Alaska salmon.
Here's a slip bobber technique that has proven extremely successful for our guide service when fishing Alaska rivers for king and silver salmon. For best results we anchor a boat above a long straight run of consistent depth water. Next we rig and adjust slip bobbers so they suspend salmon eggs (roe) inches above the river bottom. In slower and shallower water salmon eggs can be fished without weight, while in deeper or quicker runs a few split shot helps keep the bait near bottom. After positioning the boat and adjusting our bobber rigs we simply drop the floats and bait behind the boat and let the current drift them through the run. It is important to keep the bobber drifting freely with the current, while fishing, because if the reel is engaged the bobber drags, and current will kick the bait up, near the surface, and away from the primary salmon catching zone.
We prefer fishing large brightly-colored bobbers, like a size 5 or 6 ESB, because they will float a lunker-sized gob of salmon eggs, along with a double hook rig, and a couple split shot, while riding high enough in the water to be visible a considerable distance behind the boat. How far do we let bobbers drift? On a long straight run we may release more than 100 yards of line from the reels while fishing. In fact, we've hooked several salmon at the very end of our lines, and partially because monofilament and even super braided lines stretch , we've never broken a line in this situation. However, when fishing baits under floats to the end of your lines, it is good idea to bring an extra fishing outfit or spare spool of line just in case.
Advantages for fishing slip bobbers and bait straight behind the boat are: #1. You can fish a large amount of water quickly and thoroughly in a short amount of time, and #2. You will experience little slack line bellying in the current unless your bobber stops. When a salmon starts eating your salmon eggs and the bobber begins dancing on the surface, you should hook more salmon if you wait until the fish pulls the bobber completely underwater, before setting your hooks. In fact, even allowing a little slack line to drift downstream of the bobber before setting the hooks may be the best technique, as the downstream belly formed in the line pulls hooks back into the corner of a salmon's mouth as it faces upriver mooching your bait. While waiting a few moments after your bobber disappears before setting hooks often produces more hookups, if your bobber suddenly jerks underwater or torpedoes sideways across the water's surface, set the hooks immediately! Your salmon has felt a hook, and is running around trying to get rid of it.
I never would have guessed longlining bobbers and bait for salmon could be so much fun. When we get on a good school of salmon, and the bite is on, everyone in the boat starts watching each bobber as they float down river. When a bobber goes down, fishermen may forget which bobber is their own, and two or three people sometimes jerk back in unison hoping to catch one fish. On other occasions fishermen get so excited they jerk to set hooks, before engaging their reel, and instead of hooking a salmon, big coils of loose line spring off the reel. Then there are times when three or four bobbers pull under simultaneously, everybody hooks up, and people are scrambling all over the boat trying to keep their lines from tangling, as thrashing salmon battle in every direction. Yes, ESB bobber fishing for Alaska salmon can be a boatload of fun! — Andy Couch — Read my Deshka River King Salmon bobber and bait fishing article previously published in Fish Alaska Magazine.
Light Weight Spinning Reels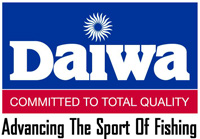 http://www.daiwa.com/us/
Daiwa has sold innovative top quality fishing reels and tackle for decades, and during several Alaska salmon fishing seasons, Ive fished 30 lb. super braid line on Daiwa's lighter weight 2500 and 3000 size spinning reels. 3 models that have fished very well for me include the original Fuego, Freams, and Certate. Spool size and line capacity on Daiwa reels tends to be larger than on similar-sized spinning reels from other companies. Less line tangling, less twisting problems, and better casting distance result from the larger diameter spools, and in my opinion, this is where Daiwa spinning reels shine.
My personal favorite Daiwa spinning reel from the 3 mentioned above is easily the Fuego 3000, because of its light weight and more positive bail trip. Catching silver, chum, sockeye, and pink salmon in freshwater on the Fuego is a real treat, however when fishing for larger king salmon, I opt for a heavier reel. Certate is a premium quality spinning reel at a premium price. While clearly the nicer reel of these 3, for me the Certate spinning reel is value prohibitive for outfitting a guide boat.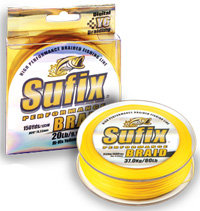 Sufix Performance Braid Review
http://www.sufix.com/usa/fishing_line/performance_braid
A word of caution to anglers who have always fished with monofilament line, Sufix Performance Braid costs considerably more, but after experiencing the addictive qualities of this line, and learning a few tricks to fishing it effectively, the thought of fishing for salmon with monofilament line, may become depressing.
After test fishing this line numerous seasons I'm a convert, and Suffix Performance Braid has become my favorite salmon fishing line. Here's why: like other super braid lines, Performance Braid casts well, has good sensitivity, and limited stretch. Less line tangling, more consistent strength, and quieter when fishing, are qualities I've found superior in Performance Braid. This is the primary line guests fish for salmon on my guide boat when casting lures with spinning reels, or when drift fishing bait, either along bottom, or under bobbers.
A Google search for Sufix Performance Braid will produce numerous online tackle dealers, if you can not find this braid at your local tackle shop.
To reduce cost when experimenting with a new line, purchase only enough line to fill a reel or two. If during your testing the new line proves superior, consider making your next purchase a bulk spool. Line usually costs considerably less per yard when purchased in bulk, and over time, percentage of line lost to spool remainder is considerably less with a bulk spool, than with multiple smaller spools.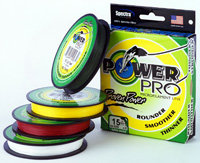 Power Pro Super Braided Fishing Line
http://www.powerpro.com
Power Pro is a quality fishing line made in the U.S.A., and readily available in many Alaska tackle shops. After using different strengths of Power Pro line, I recommend 40 lb. Power Pro for spin fishing for salmon in Alaska rivers. Salmon anglers fishing with baitcasting reels often select even heavier line.
There are differences between fishing monofilament line and one of the new super braids that anglers should know about, in order to achieve best results with a super braid. Visit the Power Pro website for detailed knowledgeable suggestions about fishing the new generation super braid lines.
Gamakatsu Finesse Wide Gap Hook style #230412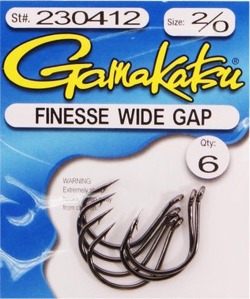 http://www.gamakatsu.com
While reading Salmon Trout Steelheader Magazine, I learned about this new style single hook that was producing better hook up rates for salmon and steelhead fishermen. Later at 3 Rivers Fly and Tackle, I found this Gamakatsu hook style already in stock, so I purchased a package of size 4 hooks, and tested them on winter ice fishing trips. The Finesse Wide Gap hooks caught enough landlocked salmon, rainbow trout, and large Arctic Char, that I decided to special order large quantities of size 3/0 and 4/0 hooks from the tackle shop to fish on my summer salmon charters.
As many fishermen already know, Gamakatsu hooks are famous for being extremely sharp right out of the package. Combining sharp Gamakatsu hook points with this style of hook produces a combination that penetrates, then holds extremely well, resulting in a higher percentage of fish caught per hook up. For this reason, the Gamakatsu Finesse Hook has become my go to hook for bait fishing with salmon eggs.
Welding and Machine — Custom Built Guide Boat
After operating and examining jet sled style guide boats for more than a decade, I had Greatland Welding and Machine in Palmer, Alaska custom build outboard jet boats with all the features I wanted. My Greatland boats feature 22 – 24 foot long, wide flat bottom hulls, with a jet tunnel option. The transom height is built to specifically match the outboard jet motor mounting height. Extensive dry storage space under the bow hatch provides enough room to stow an entire camp worth of gear, and 6 additional seat storage boxes attach along the sides of each boat. Walk through seating provides easy access to all parts of the boat when fishing, moving about, or transferring gear. Padded Fish On swivel seats provide comfort and style. Each boat features extra wide fishing rod / tackle trays, a lockable battery box, and nonslip aluminum treadplate floor. Carefully placed UHMW oar blocks provide optimum comfort, control, and quiet maneuverability when back trolling a boat with oars.
On my home river, the Little Susitna, the Greatland guide boat is recognized as the industry standard, with more fishing guide businesses operating custom built Greatland boats than any other jet sled on the river. Did I mention the boat price is great! Contact Greatland Welding and Machine owner, Gary Feaster, at 907-745-2383 for information. See also our new Outboard Jet Boat Review page.
Aluminum Boat Repair / Customizations — Jet Service
Greatland Welding and Machine is also an authorized Outboard Specialties jet unit dealer, services outboard jet units, stocks an extensive line of reasonably priced outboard jet parts / accessories, and welds, repairs, and customizes aluminum boats.

Suzuki Outboard Motor with Tiller Handle and Jet Unit
http://www.suzukimarine.com
During the 2005 season I purchased a 140 horse Suzuki four-stroke motor, and had my dealer, Anchorage Yamaha Suzuki Marine, install a tiller handle and jet unit. In more than 25 years operating as a fishing charter captain this new motor is absolutely the sweetest outboard I have ever run. It starts easily, runs quietly, idles down smoothly and slower than any outboard over 50 horsepower I've run, making it exceptional for trolling even with the large horsepower. Visit Suzuki's website or call George Pearce at Anchorage Yamaha Suzuki to learn more about high technology Suzuki outboards. 907-243-4903. For additional information visit our new Outboard Jet Boat Review page.

Tackle Reviews
http://www.tackletour.com
TackleTour.com provides independent thorough reviews of rods, reels, lines, lures. tools, watercraft, and other tackle and gear anglers could find useful. This is a much appreciated site that allows anglers to gain in-depth understanding about all types of fishing tackle with out, "buying to try," each available fishing tackle item. Web surfers may suggest tackle for review, and the forum section is excellent for asking questions about items that have not yet been reviewed and learning from the experiences other anglers.

Fish Alaska Magazine
http://www.fishalaskamagazine.com
The only magazine we know focusing exclusively on Alaska sport fishing. Their articles cover fly fishing, saltwater fishing, new tackle and techniques, fishing for shark, halibut, rockfish, salmon, rainbow trout, steelhead, Northern pike, Arctic grayling, Arctic Char, Dolly Varden, lake trout and more. Their March 2009 issue published my article on drop back fishing with bobbers and bait for king and silver salmon, and their May 2009 issue will feature an article about the Deshka River King Salmon Fishery. Each month the magazine posts 3 articles from the current issue on their website, so feel welcome to visit the website and read some articles. Perhaps, you'll decide it's worth a subscription. For more information call 907-345-4337.

3 Rivers Fly & Tackle
http://www.3riversflyandtackle.com/index.html
For Alaska fly fishing and tackle needs and an extensively knowledgeable staff contact or visit 3 Rivers Fly & Tackle in Wasilla, Alaska. The 3 Rivers tackle shop specializes in all types of Alaska fishing gear, weighs pike and salmon for Mat-Su fishing derbies, and serves as an excellent source for information about Matanuska and Susitna Valley fishing hotspots. Visit their website for internet specials, fishing reports, and ever expanding opportunities to purchase tackle and gear online, or contact 3 Rivers Fly and Tackle at 907-373-5434.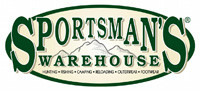 Sportsmans Warehouse
http://www.sportsmanswarehouse.com
Sportsmans Warehouse provides the largest selection of fishing tackle, rods, reels, and gear in not just Wasilla, but the entire Matanuska – Susitna Valley area. Sportsmans Warehouse also has Anchorage and Fairbanks locations and features extensive outdoor clothing, hunting, boating, and camping equipment in brightly lit stores with wide aisles and helpful salespeople.