Ice Fishing Alaska's Mat-Su Valley Lakes
Alaska ice fishing trips include ice fishing tackle, bait, and fishing tips by Fishtale River Guides. Catch winter king salmon, rainbow trout, Dolly Varden, Arctic Char in Mat-Su Valley lakes near Anchorage, Wasilla, and Palmer, Alaska.
New for Winter: Fishtale River Guides has expanded to run guided winter fishing trips in addition to summer salmon fishing charters on Little Susitna River.
Fishing Gear, Tackle, Bait, Lures, and Instruction
Fishtale River Guides will provide specialized equipment including an auger, for drilling holes, and skimmer for clearing skim ice from the holes. We will gladly drill holes, clear skim ice, and bait hooks – or if you like you are welcome to the "whole experience," and may try your hand with our equipment. We provide quality rods and reels with smooth drags and spooled with 6 or 8 lb. line so you'll be ready when you hook the "Big One". We mostly fish salmon eggs for bait, but may also try a few favorite fish catching lures. Ice fishing is easy to learn, and we provide ice fishing tips on techniques that have worked best for our guest fishermen.
Mat-Su Valley Lakes
Most of our winter ice fishing trips will be guided on the Kepler Bradley Lakes State Recreation Area located minutes from Palmer, Wasilla, and Anchorage, Alaska. These fertile lakes are stocked with king salmon, silver salmon, rainbow trout, Arctic char – Dolly Varden, and Arctic grayling by the Alaska Department of Fish and Game and are some of the top fish producing lakes in the Matanuska – Susitna Valley and South central Alaska. Fishtale River Guides owner, Andy Couch, lives near the Kepler – Bradley Lakes and has been catching rainbow trout from these lakes since 1971. In addition, Fishtale River Guides will also guide ice fishing trips on additional road accessible Mat-Su Valley Lakes.
About the Fish
Landlocked King salmon and silver salmon are very active under the ice and can often be readily caught even by people with little fishing experience or children less than 5 years old. Fishing for landlocked salmon is a fun and exciting way to introduce beginners to fishing, because they provide so much action, and CATCHING FISH is FUN! Landlocked salmon can be excellent eating if you decide to keep some for dinner. These fish average 8 -12 inches in length.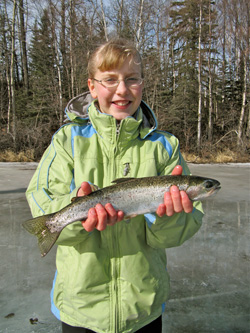 Rainbow trout are plentiful in many Mat-Su lakes, and provide some of the larger fish caught through the ice. Even 10 -14 inch rainbow trout are often chunkier than landlocked salmon of the same size, and rainbows between 20 and 30 inches are available in some lakes, but not in the same abundance as the smaller fish. Hooking and fighting one of the larger rainbows can be quite exciting and nerve wracking as they make several strong runs under the ice, pulling line off the reel, creating havoc, and kicking the ice fisher's heart into high gear. During the battle to avoid catching an exposed hook on the ice and having the fish twist free, it is a good idea to wear these big rainbows out before pulling them close to the surface and attempting to lead them up through the small ice hole.
Arctic char or Dolly Varden are long lived fish that can grow to considerable size in our fertile lakes. These thick larger fish have rich orange flesh that make a beautiful fillet and are wonderful eating. Arctic char prefer colder water than the rainbow trout and landlocked salmon and may spend most of the summer at depths where anglers have trouble catching them – compared to the more easily accessible rainbows and salmon. Although some people continue to fish deep with spoons or large jigs for Dolly Varden, in the winter they can also be caught in water less than 15 feet. The Fish and Game Department does not stock near as many Arctic char – Dolly Varden as they do silver salmon, king salmon, and rainbow trout, but Arctic char provide an exciting sport fishing opportunity to catch another species, and a truly worthy one at that.
Ice fishing seasons
The lakes we fish are open to sport fishing year round, but our ice fishing trips will only be conducted when there is sufficient ice thickness to safely access the fisheries. Conditions vary from year to year, but ice thickness is usually sufficient by late November or early December, and then holds up well through March. We often have long sunny days in March – ideal conditions for taking ice fishing pictures. If you schedule a trip early or late in our winter season and Fishtale River Guides determines lake ice conditions are unsafe or risky, the trip will be canceled and any money you may have paid will be refunded.
Guided Ice Fishing Prices and Reservations
Our 4 hour guided Alaska ice fishing trip costs $80 per person. In addition, each person fishing over 15 years of age must have a current Alaska sport fishing license. Remember to bring your camera to capture ice fishing trip pictures or record electronic images and videos. To make reservations for your guided icefishing trips please call us at 907-746-2199 or select Availability & Bookings to make your ice fishing charter booking.