Chinook Salmon Fishing near Anchorage, Wasilla, Alaska
Little Susitna River, Alaska – King or Chinook salmon are Alaska's largest salmon, and run from saltwater to Little Susitna River's freshwater holes through mid July. Fishtale River Guides runs king fishing charters on Little Susitna and Deshka Rivers from May through July 13, the season's final day. Little Su chinook average 30 pounds, with fat 40 – pound fish common, and exceptional fish topping 50 and 60 pounds. The State and World sportfishing record biggest chinook, caught on Kenai River, weighed 97 pounds 4 ounces! Catching the Big Chinook on beautiful little rivers, like Little Su or the Deshka, challenges even the best fishermen, and defines Alaska fishing.
I have been fishing with Fishtale River Guides for 7 or 8 years. The guides are always courteous and helpful. We fish for king and silver salmon and due to their knowledge and experience I have always come home with my limit. I would not hesitate to recommend them. They are the best!!"  — Nora Hathhorn, Wasilla, Alaska
Challenge the Chinook — Power Fishing at its Best!
After hooking a king you may battle half an hour catching your monster. If you hook a big fish from the bank, and it torpedoes downriver, be prepared for a wild ride. A large king can strip all the line from your reel in seconds, so we'll be jumping in the boat, chasing your salmon, and retrieving lots of line, before your trophy tires, and you can lead it to the net. This is power fishing at it's best. Accept the challenge and let Fishtale help you catch Alaska's largest salmon.
For the last 7 years Fishtale has given me and my family great fishing adventures no matter what the weather, water conditions, or fish availability. Andy Couch has always made it fun to be on the river."   — Gerard W. Brell, Anchorage, Alaska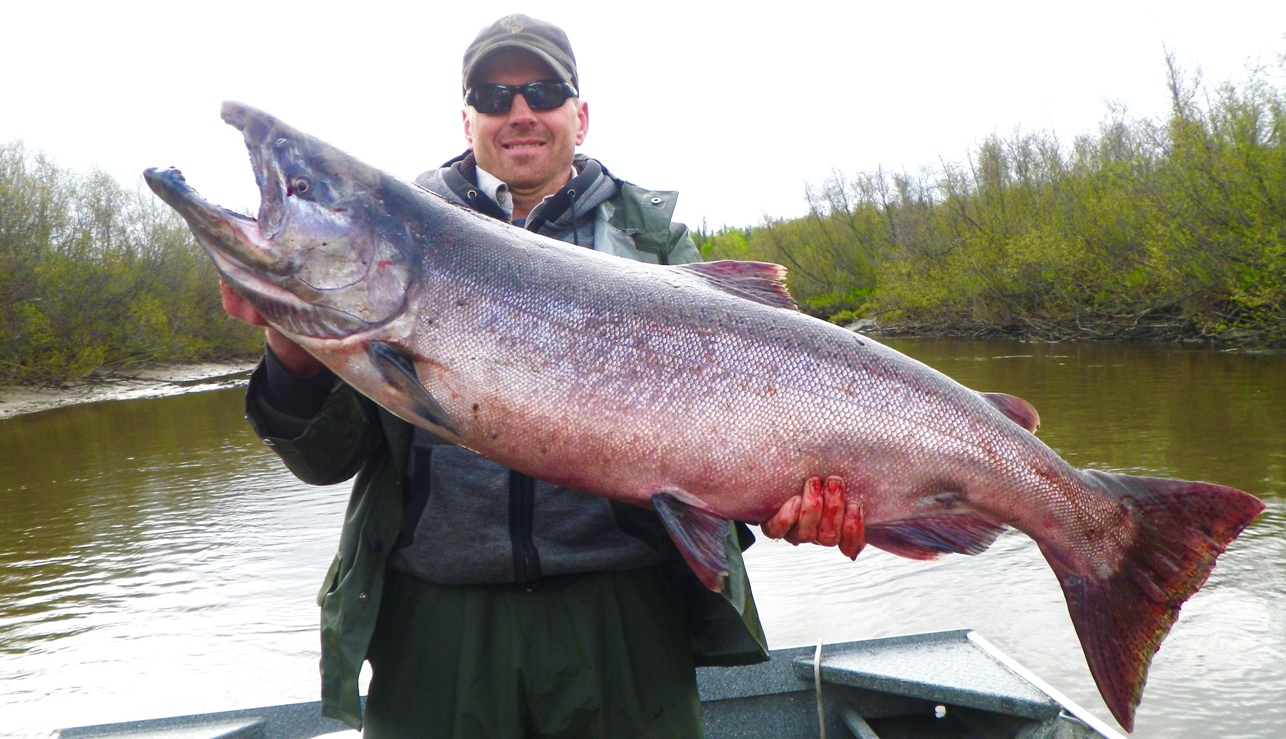 Trip Planning and Reservations
For help planning your Alaska king salmon fishing trips see our Salmon Run Timing Chart, read our free Fishing Reports,  and to reserve your guided Fishtale Trips see our Availability & Booking page. You can also make reservations by calling 907-746-2199. For your convenience we've compiled additional information about other fishing opportunities, lodging options, things to do, and things to see while visiting the Matanuska Susitna Valley and Southcentral Alaska. Visit our Trip Planning section.