Alaska Fishing News for 2022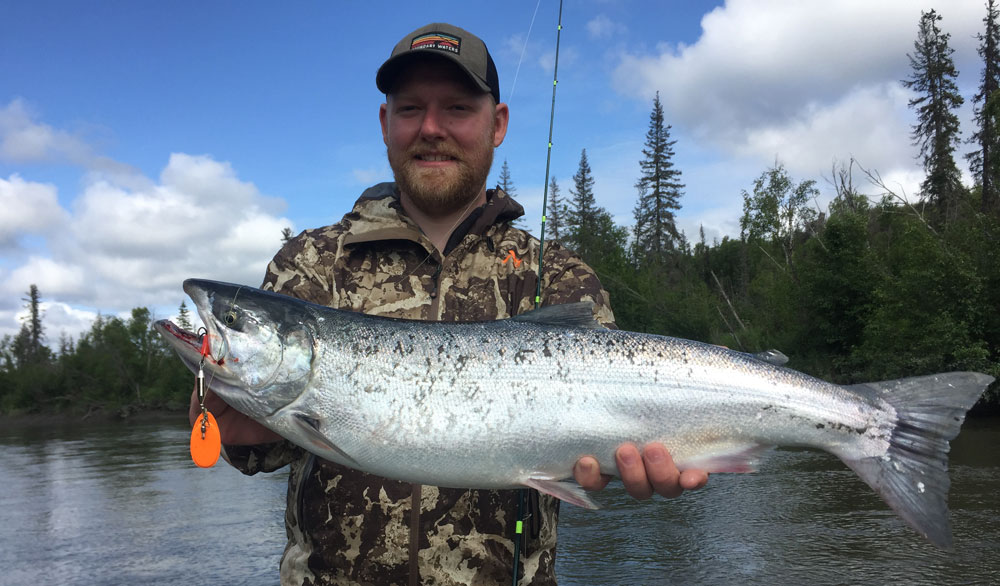 Custom spinners + Custom Rods = More Custom Fishing Fun!
April Fishing — Ice Fishing to Open Water
With longer daylight hours and warmer temperatures sport fishing in South Central Alaska's Mat – Su Valley transitions from ice fishing in early April – to a period when ice conditions deteriorate but there is not much open-water opportunity — and finishes the month with a few limited open-water fishing opportunities near the end of April.
April 21. 2022 — Preparing for Open Water Salmon Fishing
Welcome to another year of fishing reports — I had quite a stretch this winter where no fishing reports were posted — partially because I needed to have some new fishing report pages set up and the person who helped me with website design and maintenance was no longer available. Today with help from Pat Donelson with Alaska SEO that issue has been partially solved — now I need to start writing content on each of the new pages.
What's New: This past winter — when not guiding ice fishing trips — I've been building about 20 new spinner patterns which I also have test fished several times in the open water at Eklutna Tailrace. I mostly made my trips to the tailrace on days with warmer temperatures into the 40's, so I would not need to deal with ice buildup on my line, rod guides, and the new lures. At this point I am happy to report new lures are swimming well, and our guests will have plenty of new lure options to fish during the 2022 May — early September time frame that we intend to guide salmon fishing trips / charters. Custom Rods — Guests may also have the opportunity to cast our new spinners and / or salmon roe enhanced with Pautzke Bait products with new custom rods I built this winter as well. I built several rods for 3 specific techniques we use on our salmon fishing trips. Northfork, Batson / Rainshadow, and Pac Bay rod blanks were utilized, along with the Fuji KR guide system, Fuji reel seats, Winn grips, and colorfully selected thread. Custom Spinners + Custom Rods = More Custom Fishing Fun!!!
April 22, 2022 — Kepler — Bradley Lakes
The lakes had lost a considerable amount of ice near the bridge that crosses the shallow channel joining the two lakes. This is one of the first lake loacations to lose ice in the Mat-Su Valley most years, and also one of the first locations people start fishing on a consistent basis each spring. I had previously observed people fishing a very small amount of open water at this location a couple different days this spring. Driving past the lake a second time today, my wife and I noticed what looked to be an Alaska Department of Fish and Game (ADF&G) stocking truck — perhaps already stocking catchable rainbow trout at this fishing location.
Mat-Su Valley KING SALMON Fishing 2022 –Earlier this winter the ADF&G had announced that king salmon fishing throughout the Susitna River drainage will be catch and release fishing with single-hook artificial lures this year. The Department also announced the same regulation slate for Little Susitna River downstream or the Parks Highway (Highway 3).
The Eklutna Tailrace / Knik River side channel fishery will have a harvest fishery for king salmon following standard regulations. Fishing will be open 24 hours per day at this location with bait and multiple hooks allowed. Knik River update — Most of the ice is now going on the lower Knik River, however, the river level near the Parks Highway was extremely low today. Evidently there is not yet enough snow and glacier melt from the mountains to bring the river level up — yet.
April 23, 2022 —Kepler – Bradley Lakes
I drove past the lakes and saw several people out fishing jn the area where it looked like ADF&G was stocking catchable rainbow trout yesterday. I also drove past Loberg (Junction) Lake and saw a couple people fishing a much smaller section of open water at that location. I did no stop to see if people were catching fish, but it is good to see them out fishing as the ice starts to recede. On the same driving trip over to Wasilla and back I spotted a pair of swans in some swampy water on the edge of the Palmer Hay Flats. Temperatures were warm most of the day, so snow and ice continued to melt for several hours.
Spinner Building Wrap Up? — I assembled several partial bags of spinner parts in the morning, and then attempted to put away most of our spinner building tools and materials for the coming summer. With warmer weather it is time to start getting my boats and other supplies ready for the coming season, although I may build a few more spinners if requests come in for specific patterns.
April 24, 2022 — Susitna River Conditions
A nephew was talking about launching a boat and heading down the Susitna River by Friday night April 29. Not a good idea. Even if the ice were to start flowing down the Susitna River between now and the weekend of April 30 / May 1 conditions are still very winter-like in the Willow area — with 1 -2 feet of snow on the ground and lots of ice spanning the channel and along the banks of the Susitna River. That ice will likely be washing down the river off and on for 3 or more days — and a person would not want to be downstream in boat on the river if a major ice flow was flowing downstream. The weather forecast is calling for warmer temperatures over the next several days, but even if the ice does start flowing — I'm thinking final ice breakup and river clearing may be a bit later in 2022. I would wait at least another week — and possibly longer before planning to boat from Deshka Landing or Susitna Landing. A good place to see current conditions is from the weather cam at the Deshka Landing website — Yes! looks like winter. Note: If person looks at the webcam later in the evening it shows nearly all of the most dramatic changes that may have occurred during any specific day.
Geese in the Valley — I took a short drive this evening looking for geese migrating through the Matanuska Valley, and am happy to report that I found a small flock of them in a field near the Alaska State Fairgrounds. I sometimes see geese starting about May 15 — but this was the first flock I've spotted in 2022. Spring appears it may be about a week behind what we've experienced some years.
April 25, 2022 — Eklutna Tailrace — First Ocean-run Salmon Fishing 2022
I fished Eklutna Tailrace in hopes of catching my first ocean-run salmon of the season in a Mat-Su Valley open water fishery. I know — it is a very long shot, and not seeing any fish or getting any bites is about what to expect this time of year. My expectations were met — No Bites — No Fish. I was surprised, however to find a pair of other anglers at the tailrace fishing even before I arrived. We talked for a while and fished not too far apart — they had the same luck as I did, but it was fun to get outside, cast, swing a #5 Flashtrap Spinner through the current, and enjoy the sunshine.. I had been over to the tailrace many times casting and testing how spinners ran in the tailrace outflow since last October until now — however — today was the first time I was really attempting to catch a salmon.. Most of the winter I would only cast just below the power plant outflow, but today I fished near the tailrace confluence and worked my way up the tailrace as well. There was still some icy packed snow on the West Bank of the tailrace which is more shaded than the east bank.
April 26, 2022 —
I wrote my first Frontiersman fishing column of the season — and expect it might show up in the Friday edition of the paper.
April 28, 2022 — Little Susitna and Deshka River Conditions
These are usually the first two boat fisheries where I start fishing for king salmon, but at present Deshka Landing boat launch is covered in ice and Little Susitna River water flow is exceedingly low — Little Su may even be ice covered on the lower end of the river. I don't like to tow my boat to the Little Susitna River boat launch until river flow as measured on the USGS website tops 100 cubic feet per second. That is still extremely low water flow, but at least the ice is usually washed out at 100 cfs and it provides enough water where I feel comfortable running my jetboat.
At Deshka Landing ice usually flushes out about mid-day or later as flow levels increase enough to start washing the ice downstream. I am thinking ice should start flowing at Deshka Landing within the next few days — perhaps by this weekend.
April 29, 2022 — Snowmobiling?
When I viewed through the Deshka Landing weather cam https://www.deshkalanding.com/weather-cam/ this morning, I noticed someone or multiple someones driving out of the boat launch and down the Susitna River at about 10:22 am. A person and vehicle returned about 6:55 in the evening. The video is one day behind real time, however, I am still thinking the river ice could start flowing before the weekend of April 30 / May 1 is over. Have you heard the song, "Please Mr. Custer, I don't want to go!"
10 pm update — Lower Little Susitna River — Ben Allen told me he and his wife traveled to the lower Little Susitna River this afternoon. He mentioned that the road was gated shut at the Susitna Flats Wildlife Refuge boundary, so they had to walk in from that point. Inside the gate the road was covered with packed snow, and Ben thought it might take a couple weeks for the snow to melt. According to Ben, the river was already open, with some ice chunks flowing downstream as well. The water seemed high and muddy. At the USGS water guage located above the Parks Highway the water level peaked at about 75 cfs in the late evening.
April 30 , 2022 — Eklutna Tailrace — I fished this morning as it is the last day of April, and, therefore, my last chance to catch an ocean-run Mat- Su Valley king salmon during April — something I still have not done. It was a beautiful morning to be out casting and swinging a spinner in the current. I saw several ducks and both heard and saw a sandhill crane. Cranes seem to arrive later than the swans, ducks, and geese, and this was the first crane I had seen this year. Nearly all of the snow and ice is gone from the lower channels of the Matanuska and Knik Rivers, and there was only small patches of snow left along the West Bank of the tailrace. The tailrace itself was quite clear with a slow current. I saw one other angler and a couple people just going for a walk and enjoying the morning at the tailrace.
The Deshka Landing weather cam shows an open water lead that has been expanding a little bit each day — however — the Susitna River at the landing has NOT risen enough to start flushing ice.
Matanuska – Susitna (Mat – Su) Valley Lakes — Several lakes in the Kepler — Bradley system near Palmer are now ice-free. Some of these include Kepler, Bradley, and Echo which can be seen from the Glenn Highway. Looking from the Parks Highway Loberg (Junction) Lake is ice free as well.
NEW Little Susitna River Flow compared to Deshka Landing Ice Out: Starting April 25 peak instream flows measured at the Little Susitna River USGS water gauge were approximately : 4/25 – 50 cfs, 4/26 -60 cfs, 4/27 – 68 cfs, 4/28 – 66 cfs, 4/29 – 78 cfs, 4/30 – 76 cfs, 5/1 – 83 cfs, 5/2 – 80 cfs, 5/3 – 68 cfs, 5/4 – 104 cfs
Deshka Landing ice out: 4/30 large open lead in front of boat launch spit. 5/1 – by late evening considerable amounts of ice flowing and stacking up off the boat launch spit. 5/3 – River remains ice jammed at the boat launch, however as the river rose, it started running an open lead on the far side of the ice jam. 5/4 — Ice jam flows downstream of he boat launch with smaller ice flows flowing past the launch throughout the day. 5/5 —
— May 2022 Alaska Fishing Reports — for next update.