Alaska Fishing News for 2023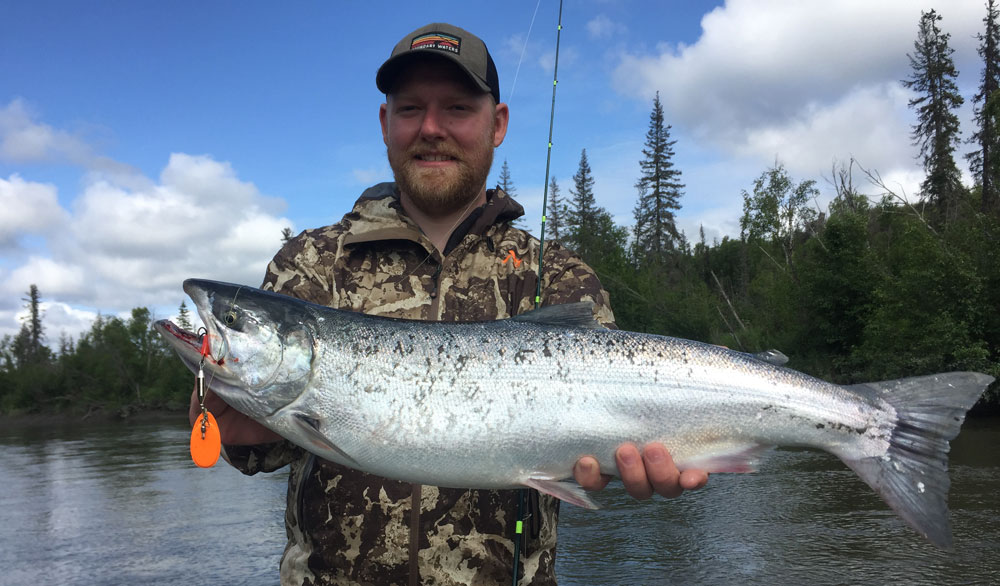 Custom spinners + Custom Rods = More Custom Fishing Fun!
April Fishing — Ice Fishing to Open Water
With longer daylight hours and warmer temperatures sport fishing in South Central Alaska's Mat – Su Valley transitions from ice fishing in late-March early-April to a period when ice conditions deteriorate but there is not much open-water opportunity — and finishes April with a few limited open-water fishing opportunities.
March 21, 2023 — Preparing for Open Water Salmon Fishing
Welcome to another year of fishing reports — I had quite a stretch this winter where no fishing reports were posted — partially because I needed to have some new fishing report pages set up. Pat Donelson with Alaska SEO helped solve that issue — now I need to start writing content on each of the new pages.
What's New: This past winter I've built 20 + spinning rods, custom-designed for specific techniques and locations we use when guiding salmon fishing trips in the Matanuska -Susitna Valley. In addition I made some serious upgrades to spinning reels guest will have available for use on my guide boat. Throughout the winter I've been test casting with several rod/reel/line combinations, and rod upgrades at times seemed rather minute compared to the custom rods my guests had been using for the past several years. Each rod improvement is exactly that, however, and these fish-catching and experience-enhancing tools are at their most refined level ever!
Custom Rods — I built several rods using rod blanks from Northfork, Batson / Rainshadow, and Pac Bay, along with the Fuji KR guide system, Fuji reel seats, Winn and cork grips, and colorfully selected thread. Custom Spinners + Custom Rods = More Custom Fishing Fun!!!
Fishing Updates —
King Salmon — For those that may not have heard, we have guided king salmon trips at Little Susitna River (catch and release) and at Knik River (bait and harvest allowed). King salmon trips will start in May and be available in some form through July 13.
Silver Salmon, Chum Salmon, Pink Salmon, Sockeye Salmon — I start guiding trips targeting 4 additional salmon species in early July and trips targeting one or more of these salmon species will be available available into early September.
March / April Reports
March 23, 2023 — Mat-Su Outdoorsman Show — I am scheduled to start booth setup for the Mat-Su Valley's biggest outdoor show of the year. The show runs from March 24 – 26 starting 12 Noon – 6 p.m. on Friday, 10 a.m. – 6 p.m. on Saturday, and 10 a.m. – 5p.m. on Sunday. Fishtale River Guides corner booth space is L6 — near the Alaska Outdoor Council booth on the turf field of Menard Sports Center in Wasilla. In addition to promoting / selling our guided fishing trips we will also have a selection of our Flashtrap Spinners and custom salmon rods guests may use while fishing with us. During the show I will also be presenting two seminars, Clobber Salmon with Bobbers & Bait at 3 p.m. on Saturday and Sunday and Proposing a Fishing Regulation and Getting it Adopted at 4 p.m. on Saturday. Feel welcome to visit at the show, check out our new gear, or attend seminar sessions. We hope to see you there!
Friday March 24, 2023 — My wife, Frede, and I worked the Fishtale River Guides booth at the Mat-Su Outdoorsman's Show from 12 noon until 6 p.m. There was a good push of attendance to start, and we got a full boat group reservation for one of our prime silver salmon trips during the second week of August. We also had an online reservation come in for a last week of May king salmon charter. Now is a good time to select some of our better fishing dates, while we still have charter space available throughout our whole summer season. Although our prices have increased this year, we are currently offering special pricing for 6 hour exclusive boat charters for up to 4 guests — $600 all taxes included for charters booked at the show. In addition, for those wanting to fish with a larger group –you may add up to two people to your boat for an additional $150 per person.
We also have the Flashtrap Spinners we use on our salmon charters available at the show — and also brought some of our new reels and custom rods for display and inspection at the booth. Stop by our booth L-6 if you get the chance on either Saturday or Sunday. Also a reminder that I will presenting seminars at the show at 3 p.m. and 4 p.m. My nephew, Paul Warta is scheduled to help out at the booth tomorrow. Hope to see you at the show!
Saturday March 25, 2023 — Another enjoyable day at the Mat-Su Outdoorsman's Show. A couple groups of regular guests stopped by and reserved prime August silver salmon trips on my boat. Another man stopped by the booth and said hello, but I had to ask who he was — when he mentioned his name — I realized we had run track together while attending high school at Palmer. It was fun to visit and catch up a bit — after more than 40 years. A woman came by the booth and mentioned she remembered me from volleyball — (I coached and played for several years) when she mentioned her daughter's name I pictured a girl on an oppent team — the daughter by this time has three kids of her own. I had a fairly long conversation with a young man who was simply seeking some advice on where and how he might catch some salmon on his own. Several anglers inspected and discussed the Flashtrap salmon spinners we use on our charters, before investing in a few for their personal use. These snippets of conversations are the highlights of working an outdoor show — and there were more. Suffice it to say I had a good day and truly enjoy sharing life with these people.
Sunday will be the final show day — with show hours from 10 a.m. — 5 p.m. Admission will be free to everyone coming into the show between 10 — 12 noon with normal pricing for those arriving after noon. Feel welcome to stop by and say hello at Fishtale River Guides' booth L-6. I sometimes take a break from our booth to walk around the show myself and visit with other exhibitors — or at 3 p.m. on Sunday I will also ounce again be presenting the "Clobber salmon with Bobbers and Bait" seminar. Anytime I am away from the booth, my nephew, Paul Warta, will be at the helm to answer questions, assist with reservations and talk salmon fishing. We hope to see you at the show.
Thursday March 30, 2023 — Our last day of the Mat-Su Outdoorsman Show on Sunday March 26 went smoothly with lots of show goers taking advantage of the two hours of free admission in the morning. We talked with several people that may get back to us in the future for fishing charter reservations — however we did not book any reservations on Sunday.
I attended a Matanuska Valley Fish & Game Advisory Committee last night and the committee voted to submit a couple fishing regulation proposals for next winter's Upper Cook Inlet Board of Fisheries meeting. The deadline for regulation proposal submission is fast approaching usually April 10.
Friday April 14, 2023 — I should be done rod building by now, as it is getting nice enough outdoors that I would rather spend more time outside walking and such. temperatures have been warming up during the day into the low 40's most days — but freezing at night. We still have plenty of snow on the ground around our house, but it has been melting off some of the nearby fields that were partially wind-blown this winter. I've spotted a flock of geese three different days now — I would think they must be hungry as it does not seem like there can be much for them to eat. From sunrise to sunset, we now have well over 14 hours of daylight. I put handles on what should be the last custom rods I build before summer, all personal rods or rods for our guide business at this point. All of these will be spinning rods. I have some lighter trout rods to wrap, some lure / spinner rods for salmon in the 7′ — 7′ 2″ range and one longer salmon rod to wrap for fishing bait under bobbers.
April 16, 2023 — I wrapped and finished a 7 foot medium spinning rod for one of my nephews. In the evening I went for a walk and saw a pair of ducks out in a field for the first time this spring. I've now seen geese, swans, and ducks — the last waterfowl I usually see are usually sandhill cranes — and I have not seen or heard any yet.
April 17, 2023 — I wrapped a Northfork Composites hotshot blank up as a spinning rod –I have never used this blank before and am excited to see how the finished rod fishes. There is still plenty of snow and ice, but if I drive over to Eklutna Tailrace some afternoon, there should be some open water to cast and retrieve a lure — It would be most amazing, however, if there was a fish over there and willing to bite. In the evening I walked about two miles — spring is in the air and it feels good to get active outdoors.
Thursday April 20, 2023 — I saw my first flock of sandhill cranes in the Mat-Su Valley this spring a few days ago now. Waterfowl will only get more numerous in the Palmer – Wasilla core area for the next week or two. As snow and ice continues thawing some waterfowl will resume their migration north or west.
I plan to attend a Mat-Su Borough Fish and Wildlife Commission at 4 p.m. this afternoon. The big happening scheduled during this meeting is Alaska Department of Fish and Game Commissioner, Doug Vincent-Lang, may be talking with Commission members about the department's fish and wildlife management. We may possible get an update on how commercial management of the drift gill net fleet in Upper Cook Inlet might potentially change under federal government control.
April 21, 2023 — I enjoyed listening to ADF&G Commissioner Doug Vincent-Lang talk about several things the Department has been working on yesterday. Of concern was the ongoing downturn in king salmon production on a statewide basis. There are places doing better than Cook Inlet for king salmon, but the Yukon River has had much poorer king salmon returns for a number of years. It was good to hear the department is doing some studies in the saltwater environment — where we were told that young king salmon have been experiencing lower survival rates during their first year in saltwater. No solutions as of yet.
We visited some friends who are adding on to their house today. Frede picked up some small strawberry plants that she is hoping to get started — weather report is calling for snow tomorrow! We did enjoy some warm sunny weather today that condensed the snow still covering our yard. While driving past the Springer System farm fields today we saw snow geese, Canadian geese, sandhill cranes, and ducks. From the house I also saw and heard geese flying over — waterfowl migration is in full swing.
April 25, 2023 — I wrote the Frontiersman newspaper fishing column that should be printed on Friday April 28 discussing some of the king salmon fishing opportunities both past and for 2023. I also wrapped and finished another custom spinning rod for use on our salmon fishing charters. There is still plenty of snow on the valley floor — especially in some of the more shaded locations — but spring continues to progress and the lower Knik River appeared mostly ice free the last time my wife and I drove over on the Parks Highway bridge.
April 26, 2023 — Deshka Landing — I've been watching the weather cam at Deshka Landing as ice breakup on the Susitna River approaches. Like usual for this time of year there is a bit of open water off the spit beside the boat launch and slightly upstream to where Mule Creek flows into the river. Otherwise there is still plenty of snow on the access road coming down the hill to the boat launch and on the spit itself. According to the Deshka Landing website the parking lots have been closed as the snow melts and the ground thaws out. The Deshka Landing Outdoor Association annual membership meeting is scheduled for Saturday May 13 — just over two weeks away. I expect there will likely still be some snow and ice around, but I also expect the river may be mostly ice free by then.
April 27, 2023 — I wrapped and finished a spinning rod that we will use while casting our Flastrap spinners for salmon. I built it on a Rainshadow Revalation 2- piece medium blank with a black Winn Grip and Fuji reel seat and a second locking nut. The rod is black with a Fuji KR guide system wrapped with Maui Surf-colored thread. It is built light — looks and feels great. I expect our guests will enjoy using this rod — and we have a several other custom rod models for guests to fish with as well. The thing about building custom rods — you can make them to your own specifications. After several years of building — I feel like our spinner fishing rods are about as dialed in as they can be — specifically for catching salmon.
On this date back in 2006 I caught an ocean-run silver (coho) salmon while casting a #4 silver /black Flashtrap Sinner at Eklutna Tailrace. Most years since 2006 I've been back at the tailrace either attempting to better or match my record earliest season catch of an ocean -run salmon in a Mat-Su Valley river. My wife and I walked around a bit at the tailrace yesterday, but did not fish. There is still quite a bit of snow over there in the shadow of Pioneer Peak. I do intend to make a trip over before long — primarily to cast and get a feel for how some of the rods I built this past winter feel with a lure on the end of a line.
April 30, 2023 — I went open water fishing for salmon for the first time this year at Eklutna Tailrace. I fished with 4 custom rods built on blanks I had not used before. All of them casted the spinners well and were sensitive — allowing me to feel the spinner blades thumping whether I was casting upriver and reeling the spinner with the current or swinging the spinner below me in the current. I fished a pink-bladed #5 Flashtrap and a nickel-plated #7 Flashtrap. I did not see any fish and did not detect any bites. There was quite a bit of ice still in the Knik River and enough snow along the bank that I did not move around from spot to spot as much as I usually do. The conditions were even a bit more wintery than I expected — however since I want to catch more ocean-run salmon in Mat-Su Valley streams in April that means I need to at least fish in April.
Driving over to the tailrace I noticed that there was a small bit of open water in Bradley Lake alongside the highway. Rainbow trout move in and out of this shallow water area and get caught here every year while most Mat-Su Valley are still completely covered with ice.