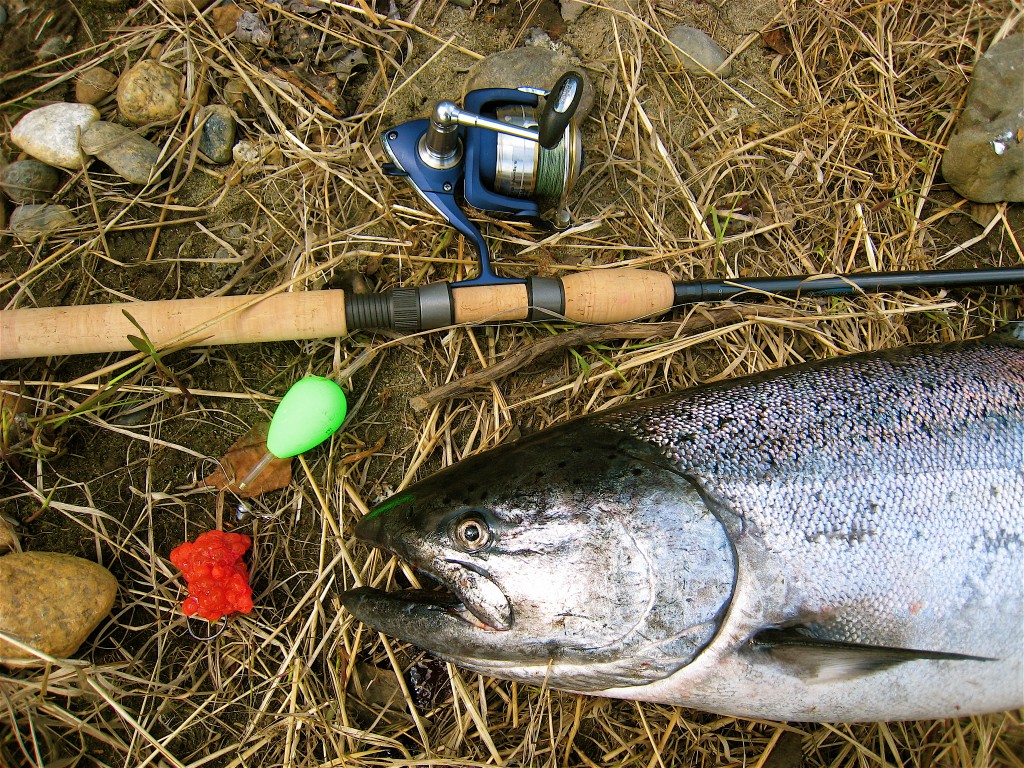 Alaska Fishing News 2023 Mat-Su Valley
King salmon, Rainbow trout, Northern Pike, Hooligan, River & Ice Conditions
Our guided Alaska fishing charters from jet boats start in late May for the 2023 fishing season — call for May availability. Boat launch / meeting sites are located 40 – 90 minute drives from Anchorage, Alaska, and approximately 30 – 60 minute drives from Palmer and Wasilla communities. Call 907-746-2199 for reservation or to inquire about a trip. You may want to bookmark this page for future reference. Scroll down to read our latest May 2023 Fishing Report.
Fishing Tour Opportunities for May 2023:
Little Susitna River — Catch & release king salmon, rainbow trout. Note: Our earliest Little Susitna River king salmon was caught on May 1, back in 2003. King salmon abundance increases after May 20, and usually builds to a mid or late June peak in the lower river. An early morning May fishing trip to Little Susitna River ,where the river meanders through the Susitna Flats Wildlife Refuge, provides a good opportunity to spot moose, bald eagles, waterfowl, and sometimes a beaver, otter, mink, coyote, or fox. Note: Alaska Department of Fish & Game (ADF&G) opened Little Susitna River Public Use Facility campground and boat launch on May 12, 2023 — the last mile of the road is rough at the start of the season so proceed carefully.
Knik River — king salmon harvest trips — king salmon catches may start the last week of May. The best king salmon fishing at this location often occurs before June 25.
Deshka River — Fishing for rainbow trout, arctic grayling, Northern pike. Water is usually high and cold in May, but trout, grayling, and northern pike are available in the lower Deshka River. Bald eagles and arctic terns are seen on nearly every May trip to Deshka River. Guests have also spotted moose, beaver, and waterfowl. They have heard wolves howling near Deshka river on several trips, and spotted a wolf along the banks on a few fishing trips. Late May also provides an opportunity for Alaska residents to harvest hooligan near the Deshka River / Susitna River confluence.
Lower Susitna River drainage — Hooligan(smelt) dip netting for Alaska residents, Northern pike harvest fisheries in some of the sloughs.
Please call to discuss a 2023 charter fishing trip: 907-746-2199. We hope to fish / guide and post reports 15 or more days during May 2023. Return often to read the latest fishing report updates. Note: because of a later spring and breakup of ice in the Mat-Su Valley last year — Deshka Landing boat launch did not open to member owners until May 13, 2022 and I did not guide my first fishing trip from Deshka Landing until May 19, 2022.
May 2023 Alaska Fishing Reports
May 1, 2023 — Deshka Landing — Looking at the Deshka Landing weather cam — there is a bit more open water out from the boat launch — however the road leading to the boat launch is still closed and snow-covered. While there is some meltwater in the boat launch lagoon — it is sitting on top of ice. Watching the Deshka Landing weather cam through the April 30 recorded day there was no evidence of ice starting to move yet in the river channel. It is a guessing game as to when the meltwater and river will rise enough to flush the ice out. My guess it may be after mid-May before I am willing to launch a boat into the Susitna River from Deshka Landing this year.
Little Susitna River — I talked with Alaska Department of Fish and Game fisheries biologist, Samantha Oslund today — and they had not been out toward the Little Susitna River Public Use Facility — which they will be operating this year. I would suspect there may still be considerable amounts of snow on Little Susitna River Road and that the gate is likely shut and locked going into the Susitna Flats Wildlife Refuge and the Little Susitna River Public Use Facility camground and boat launch.
May 2, 2023 — I wrote and submitted the weekly Mat-Su Anglers fishing column for the Frontiersman newspaper yesterday. The print edition usually publishes on Friday, while the online version may come out a day or two earlier.
Deshka Landing Update — snow has been plowed off the access road leading down the hill to the boat launch. The launch itself and the spit along the north side of the launch lagoon remain mostly covered with snow and ice — although some melting has been occurring and some small patches of dark ground ground are starting to appear from below the snow level. Beyond the launch lagoon there is some open water out in the Susitna River channel — but ice is still anchored across the river channel in other spots and ice along the shores has not yet started moving. At this point I am thinking it may be sometime between May 15 -20 before I get one of our boats out on the Susitna River in 2023.
May 4, 2023 — I drove to Eklutna tailrace and casted a #5 Flashtrap spinner for a while. It was a pleasant evening, but I did not see any fish or get any bites. The snow at the tailrace has melted considerably since I was last there on April 30. Highlight of the trip was all the wildlife I saw while driving to and from the tailrace. I spotted 5 moose, a pair of trumpeter swans, a couple different bald eagles, cranes in a farm field, and ducks. I also spotted a beaver along the edge of the Knik River while I was casting at the tailrace. There were at least three people fishing in a small amount of open water on the west end of Bradley Lake. That was the fun highlight of the past couple days — as I've been working on paperwork.
May 5, 2023 — I took my pre-employment drug test today getting ready to run guests in one of our guide boats. I still have other pre-season chores to do — and have not even thought about launching and running my boat yet. I did drive past Finger Lake — which appeared to have only lost a. little bit of ice so far, but conditions could change before long. Deshka Landing is still closed — although the snow and ice continues to melt and progress can be seen today on their website weather cam. Corey Berg told me he had flown over the Little Susitna River today and the river was mostly ice free from the Parks Highway down to the Little Susitna River Public Use Facility campground and boat launch. He said the river on below that was jammed with ice and water was flooding out into the swamps on the side of the river. As could be expected with the ice working its way down the river, the water was dirty colored.
In Wasilla today I stopped by 3 Rivers Fly and Tackle and talked with Mike Hudson a bit. Mike told me people had been catching some fish out of Bradley Lake and Lucille Lake near the City of Wasilla boat launch. Up north he mentioned the ice needs to breakup on the Susitna River before the trout fishing in the tributary streams will get much good.
Sunday May 7, 2023 –Deshka Landing — Susitna River ice started moving significantly out in front of the boat launch. It is a bit late in the spring — so if temperatures remain above freezing for another 24 hours I expect the river will rise and ice breakup may be on if full force by Monday.
Monday May 8, 2023 — I casted spinner at Eklutna Tailrace for a while this evening. Water conditions looked decent for this time of year — driving across the Palmer Hay Flats and then along the mountains to the tailrace most of the snow has melted down on the valley floor with patches remaining in shaded spots. There was only a little bit of ice remaining along the lower Matanuska and Knik Rivers. There was still a little snow in part of the lower Eklutna Tailrace parking lot, but most of the snow has melted although there was also a small bit along the tailrace as well. The power plant was running a good amount of water this evening and. the water was quite clear and pretty looking. I did not see any fish or get any bites — but it was fun to swing some spinners down the current. I tried out a new trout- weight rod I build the other day and was quite pleased with it while fishing a smaller spinner — if I had hooked into a good-sized ocean-run king salmon I am sure it would have been a challenge attempting to land it with that light rod.
I spotted one moose on the Palmer Hay Flats while driving to the tailrace and I saw one moose on the Palmer Hay Flats while driving home after fishing. I also spotted a few ducks, but did not see near as much wildlife as my last drive to and from the tailrace.
I talked with ADF&G fisheries biologist Samantha Oslund today and she told me the Deshka River and Alexander Creek were now ice free and that the ice had also gone out on the Yentna River below the Big Bend.
ADF&G plans to start stocking Mat-Su Valley lakes as soon as ice is open enough. Bradley- Kepler Lakes, Lucille Lake, and Junction Lake are a few lakes that have some open water, people have been fishing, and on the Department's early list for stocking.
Tuesday May 9, 2023 — 9 :17 a.m. — Deshka Landing web cam is showing the Susitna River channel beyond the boat launch lagoon nearly ice-free at this time. Water level in the launch lagoon appears quite limited and the boat launch ramp and lagoon look to be entirely blocked by ice in the lagoon itself. It normally takes at least three days after the river channel first looks ice free before I am willing to boat very far up or down the Susitna River from Deshka Landing. NOTE: Deshka Landing is currently closed at this time awaiting improved conditions.
Wednesday May 10, 2023 — In the evening I cast spinners at Eklutna Tailrace the water had a slight greenish tint, but was quite clear. I walked from the power plant end of the tailrace and back, but did not see or hook any fish.
While driving to and from the tailrace I saw sandhill cranes, ducks, and a group of three large moose feeding near the highway. Driving around the Mat-Su Valley with my wife today we noticed more lakes were losing their winter ice covers. If a person wanted to fish lakes for trout there is now considerably more open water in some lakes in the Palmer — Wasilla core area. Dan Suprak told me that he and his wife, Cilla caught several nice rainbow trout in the 18 – 20 inch range from an easily accessible core area lake within the past week.
Friday May 12, 2023 — Mike Hudson with 3 Rivers Fly & Tackle told me he had talked with anglers who had caught rainbow trout at the Willow Creek confluence with the Susitna River and on up the Parks Highway at another tributary stream confluence with the Susitna River. It is still wintery with snow along the riverbanks in some places, but good to know that the trout are staging or moving up into some of the Susitna River drainage tributary streams. Note: In the Mat-Su Valley south of Willow Creek most streams are closed to fishing at this time to protect spawning rainbow trout — from Willow Creek north, fishing is open in most streams, although when caught, rainbow trout must be released.
Saturday May 13 — The annual Spring cleanup of lower Ship Creek as organized by the Bait Shack occurred from 11 a.m. — 1 p.m. Diamond Parking Service provided free parking for cleanup volunteers. From more information contact Dustin Slinker at 907-522-3474.
Today the was annual meeting for Deshka Landing Outdoor Association member owners — my wife and I drove to the landing and attended the business meeting that started at 2 p.m.
May 14, 2023 — Happy Mother's Day. Corey Berg Told me Little Susitna River Public Use Facility was opened to the public on Friday May 12, and he had been fishing Little Susitna River the past couple days, but had not caught any fish. He mentioned the water had been high and muddy with about 18 inches of visibility near the boat launch. He also saw other people out boating and bear hunting along the river.
Little Susitna and Deshka Salmon Counting Weirs Because of high water level ADF&G has been unable to install Little Susitna River weir, but is hopeful the water may drop enough to allow that to happen before the end of May. ADF&G likes to install Deshka River weir sometime around May 20, but with a late spring thaw and plenty of snow to provide extra runoff, it will be interesting to see if Deshka River weir can be installed before June. In 2022 under similar conditions the weir could not be installed until June 1. In 2013 with a very late breakup Deshka River weir could not be installed until June 7.
Monday, May 15, 2023 — Eklutna Tailrace — I casted 2 different patterns of Flashtrap Spinners in the evening, but did not see or hook any fish. One lure was a trout sized spinner as I was looking to see if any coho salmon smelt would follow it in or grab it — ADF&G published that they had released two thousands of coho salmon smolts several days ago so I was hoping to spot some. Evidently all or most of the smolts must have already migrated out of the tailrace, as I did not see any of the little fish breaking the water's surface or down in the water column. I did see 4 moose as I was driving across Palmer Hay Flats, some sandhill cranes, one swan, and a snowshoe hare that had been flattened on the road.
Deshka Landing — Although still not officially open for the season — most of the remaining ice was flushed out of the boat launch lagoon and down the Susitna River today. It should not be long now before Deshka Landing boat launch opens for the season — courtly part of the parking lot is still soft from the spring snowmelt.
Tuesday May 16, 2023 — I researched and then wrote my weekly fishing column for the Frontiersman Newspaper that should publish on Friday May 18. I also wrapped one fishing rod and finished two fishing rods.
Wednesday May 17, 2023 — I spent a few hours preparing to speak at an Alaska Sportfishing Association meeting. Later in the evening, I drove into Anchorage and gave the presentation. On my drive home after the meeting, I spotted 6 moose feeding on the Palmer Hay Flats.
Thursday May 18 , 2023 — Deshka Landing Boat Launch — Deshka Landing officially opened for the public to launch boats and park vehicles — for both season pass holders and day use.
In the afternoon I attended and participated in A Mat-Su Fish & Wildlife Commission meeting.
Saturday May 20 — Little Susitna River — I fished Little Susitna River for the first time this year with Pete Imhof — from his boat. We were attempting to catch king salmon and spent the entire trip back trolling. Pete briefly hooked and fought a fish that appeared to be small — although he lost the fish while it was still deep underwater, and we never had the opportunity to see what, and how large it was. During the trip we saw 3 moose along the river, some pairs of trumpeter swans, ducks, and a bald eagle. Although Pete said the river had dropped a bit from the previous day, it appeared to be running higher than normal for this time of year. Visibility looking down into the river appeared got be at least 18 inches the entire time we were fishing.
Deshka Landing — looking at the Landing's weather cam video footage there was plenty of people lauching boats and accessing the Susitna River drainage on Saturday. This time of year the mix of people includes people accessing their cabins along the river, hooligan dip netters, bear hunters, anglers looking for rainbow trout, arctic grayling, and northern pike, and likely some boaters just out to run the rivers or do a check run on their boats at the start of another open-water season.
Monday May 22, 2023 — Eklutna Tailrace — I fished the tailrace a bit this morning and conditions are looking better — although the river channel below the tailrace still has only a shallow amount of water in it. My main purpose was to compare 4 different spinning rods I had built — and the first 3 worked just fine — when I got to the 4th one however, I flexed the tip a little bit and it snapped right off. That was disappointing — however — better to have it happen now than later while one of my guests was using it on a guided fishing trip. I do not know why it broke, but sometimes a rod blank may not be built quite right or it may have been abused in some way to cause a weak spot. I did not see any fish or get any bites. Conditions keep looking better, though, and although I have not yet heard of anyone catching a king salmon from a stream in the Northern End of Cook Inlet I feel confident people will be catching a few king salmon in the coming week.
I talked with Dan Suprak who ran the charter I had scheduled for yesterday (May 21) on a Mat-Su Valley lake. The two guests each caught several holdover-sized rainbow trout — primarily on flies, but at least a couple while casting a spinner. The trip had originally been scheduled for king salmon, but the guests decided to go for a more sure fish catching opportunity with the trout compared to an early season king salmon trip.
Tuesday May 23, 2023 — I wrote and submitted my weekly fishing column for the Frontiersman newspaper that should be published on Friday May 26.
Wednesday May 24, 2023 — First ocean-run Ship Creek king salmon of 2023 was reported caught today by the Bait Shack. The Bait Shack has been providing a free fishing gear package to the first person checking in a Ship Creek king salmon with their business for the past several years. A picture is posted on their website.
Friday May 26, 2023 — Eklutna Tailrace — I casted a #4 spinner early this morning from the pedestrian bridge downstream to the tailrace confluence with the Knik River side-channel. I did not detect any bites and did not see any fish or other anglers. Driving to and from the tailrace I spotted sandhill cranes, ducks, and a single moose. The vegetation is greening up and filling out, so it is becoming more difficult to spot wildlife back from the roads.
SUNDAY MAY 28, 2023 — I guided 3 guest visiting Alaska on a king salmon fishing trip. They fished some prime water, and saw a few fish surfacing that appeared to be ocean-run salmon, but were unable to hook up despite trying several different lures. During the trip we saw a bald eagle, several moose — and with moose calves, a trumpeter swan, and a muskrat. I hope they enjoyed their Alaska fishing trip as much as I enjoyed the opportunity to fish with them.
Monday May 29, 2023 — I casted a #5 Flashtrap Spinner both up and downstream fom the pedestrian bridge at Eklutna Tailrace early in the morning. I saw a family fishing and another single angler as well, but I did not see any fish and did not see anyone having any action from fish. I had been hopeful that the soaking rain that fell the night before might have spurred some salmon to migrate into the tailrace, but it did not appear so. Water was still quite low in the Knik River side-channel that the tailrace outflow dumps into.
Tuesday May 30, 2023 — I gathered information from several sources for my weekly fishing column in the local Mat-Su Valley newspaper, then wrote and submitted the column. The first few ocean-run king salmon and a single sockeye salmon passed through Little Susitna River weir over the 3-day Memorial weekend — as posted on the ADF&G website today.
Wednesday May 31, 2023 — I dropped off my guide boat and trailer at Greatland Welding & Machine this morning in hopes they can get my trailer lights working ounce again on a full-time basis. I am also planning to purchase and finish installing a new set of tires on the trailer for my second guide boat at Deshka Landing. In addition I plan to install a new headlight bulb in my truck. Other maintenance issues may fill out the remainder of my day. I plan to fish for king salmon and post the fishing report tomorrow — it will be available on our June 2023 Alaska Fishing Reports Page.